Imagine... with all your mind, Believe... with all your heart, Achieve... with all your might.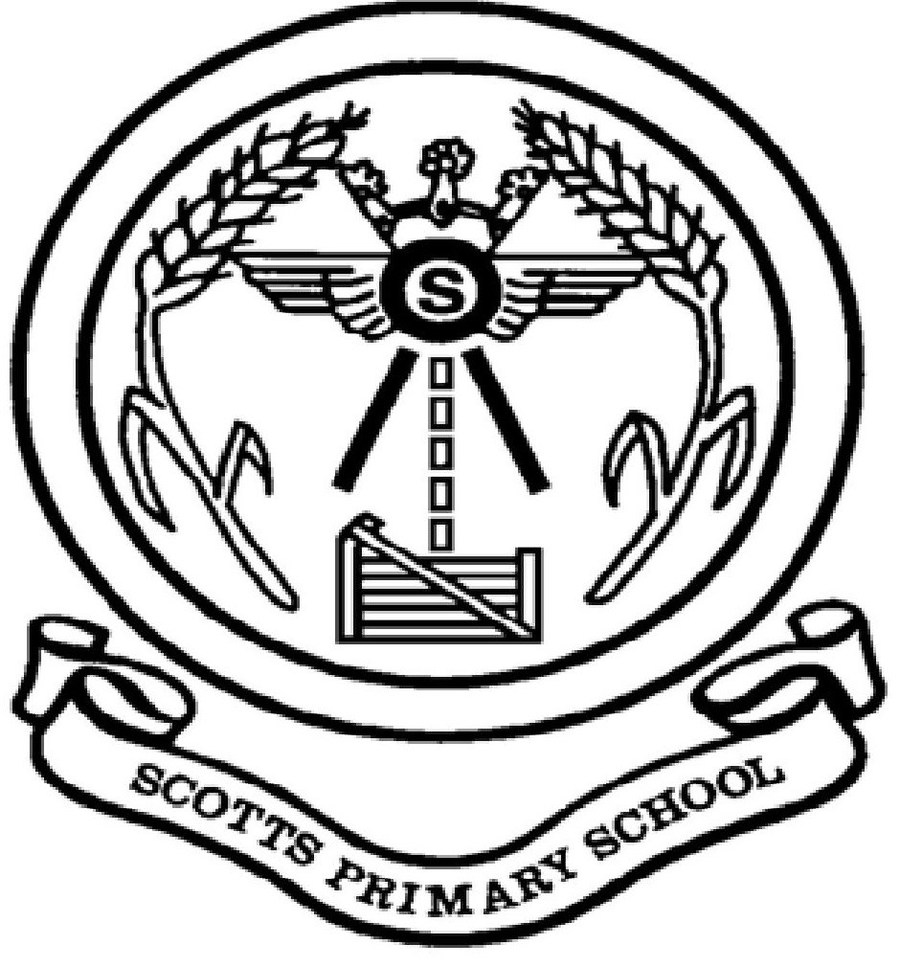 Online Safety
"Children have the right to enjoy childhood online, to access safe online spaces,
and to benefit from all the opportunities that a connected world can bring to them, appropriate to their age and stage.
As they grow older, it is crucial that they learn to balance the benefits offered by technology with a critical awareness of their own and other's online behaviour and develop effective strategies for staying safe and making a positive contribution online."
(Educated for a Connected World 2020)
Scotts Primary School Framework for Online Safety Teaching - 2021-2022
At Scotts Primary School, we want to educate and empower children to have positive online experiences. Online Safety is taught to all pupils focusing on how to stay safe and behave appropriately online. Our work in this area can only be effective if we work with parents to ensure the message is consistent. It is important that parents talk to their children about how they can stay safe and behave appropriately online.
Online Safety - Newsletters
Links to POLICY DOCUMENTS
Online Safety Policy - 2021-2022
Social Media Policy - 2021-2022
Acceptable Use Policy KS1 2021-2022
Acceptable Use Policy KS2 2021-2022
Acceptable Use Policy (symbols version) 2021-2022
Acceptable Use Policy Parents 2021-2022
ONLINE TUTORS - LGFL GUIDANCE FOR PARENTS AND CARERS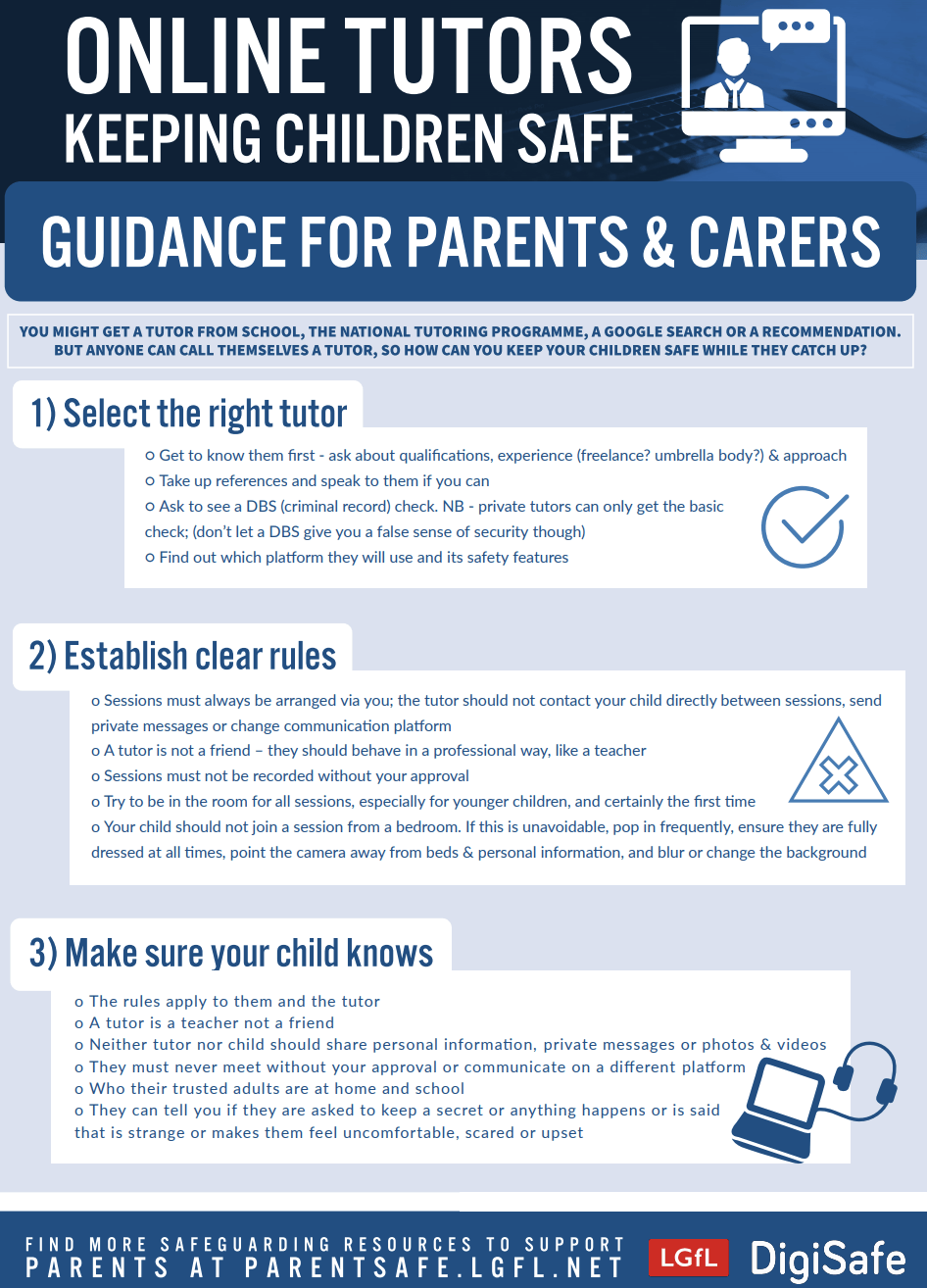 USEFUL RESOURCES & LINKS

CEOP & ThinkUKnow

Provides information for young people, parents and professionals including training and educational materials.

https://www.thinkuknow.co.uk/

NSPCC helpline

NSPCC helpline is open 24 hours a day, 7 days a week. Our advisors are available to give support and advice to any adult who is worried about a child

0800 800 5000

help@nspcc.org.uk

Net Aware

Net Aware is the NSPCC and O2's guide to the most popular sites, apps and games that young people use. This is a great site for parents as well as anyone working with children

Download the app for free on the App Store or Google Play.

O2 online safety Guru

NSPCC trained, online safety advisors, available in all stores around the UK.

Gurus can help you set up parental controls such as privacy settings to any device.

You do not have to be an O2 customer to use this resource.

Book an appointment in store:

http://guru.force.com/O2DeskStoreLocator

0808 800 5002

Parent Zone

Parent Zone are the experts in digital family life. They provide support and information to parents, children and schools, working globally to help families to navigate the internet safely and confidently.

https://parentzone.org.uk/digitalparenting
Childline

Childline is a free, private and confidential service where you can talk about anything. Whatever your worry, whenever you need help, we're here for you online, on the phone, anytime.

0800 1111

Internet Matters

An online safety resource hub providing information for teachers to use with young people and parents.

www.internetmatters.org/schools-esafety/
Digital 5-a-day

Children's Commissioner's easy to follow, practical steps for children and parents to achieve a healthy and balanced digital diet

https://www.childrenscommissioner.gov.uk

LGfL Online Resource Centre for Parents

A resource portal for parents, containing useful links to support pupils of all ages.

parentsafe.lgfl.net
PEGI website

Pan European Game Information

This is a website which can tell you what age you have to be to play any game.

http://www.pegi.info/en/index/

BBC Own IT

Online safety videos for children and teenagers

https://www.bbc.com/ownit/its-personal/when-you-see-something-scary-online
Online Safety Conservations with Children

New research suggests children are using social media before parents have spoken to them about how to use it responsibly, with 48% being exposed to it by age seven.
To help parents have these important conversations with their children at a younger age, Vodafone UK and Andersen Press have teamed up with award-winning author Jeanne Willis and illustrator Tony Ross to produce a co-branded digital edition of #Goldilocks. The book is a modern twist on the classic fairy tale and offers a fun and accessible way for parents to discuss responsible social media use with their younger children.
The book sees #Goldilocks getting into trouble with the three bears over her pursuit of likes on social media. It aims to help educate children about the potential consequences of being unkind, getting carried away with selfies or oversharing images in a light-hearted way.
Download #Goldilocks along with a fun activity sheet for free below or visit Vodafone Digital Parenting - https://www.vodafone.co.uk/mobile/digital-parenting/goldilocks)
Digital Parenting Checklist