Year 5
Welcome to Year 5.
Our teacher is Miss Stagg.
Our Teaching Assistant is Mrs McLaren.
Year 5 Summer Curriculum
Please click here to read our curriculum newsletter which gives details of topics we will be covering during the summer term.
Creative Writing
In the Autumn term we are read 'The Bad Beginning' by Lemony Snicket and used this text to inspire our writing.
We imagined the worst starts to the school year and wrote a diary entry describing our bad school beginnings.
This week, we have also become authors and rewritten one of Lemony Snicket's chapters focusing on one particular perspective. We spent time redrafting and improving our chapters to ensure there was lots of description and not too much speech.
Our authors below are: Tommy, Victoria, Rosie and Olivia.
More writing!
We imagined we were Count Olaf and wanted to persuade Mr Poe to allow us to adopt the Baudelaire orphans. We came up with some brilliant reasons and some creative ways to disguise our true reason to adopt the children (to steal their fortune!).
The Count Olafs below are: Olivia, Eloise and Abby.
New Year, More Creative Writing!
We are starting 2018 by reading Percy Jackson and the Lightning Thief. The children have really engaged with the text so far and are making fantastic predictions based on the chapter titles and what we have researched on the Greek Gods so far. We are currently writing informative texts about Zeus, Posiedon and Hades. We have done some great research and presented our findings to the class.
We have also written descriptions of Camp Half Blood. First, we drew a map of the camp and then we thought of different ways to describe it. Look below to read Harry's awesome description and his fab map.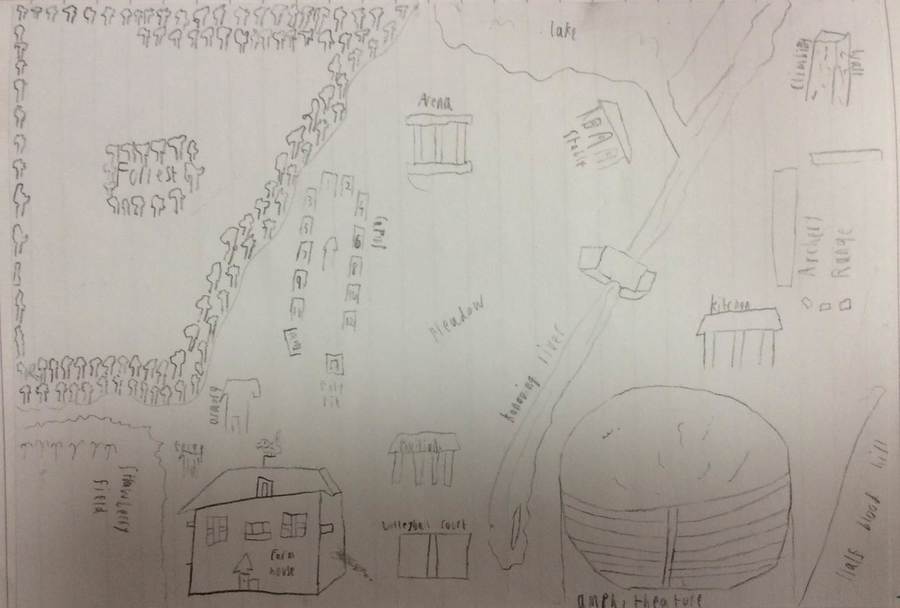 Summer term writing
This term we have been reading ghostly stories - The Giant's Necklace by Michael Morpurgo. We have also been watching 'Francis' and used this to inspire some descriptive and tense writing. Click the picture above to watch the video or read on for some terrifying examples of writing...
Olivia
Quetico Park is like a maze one million acres wide and has many things to do. As I walked through the forest, I saw trees using their long, thin arms to stretch towards the tall grass, which shivered in the cold, ice air. I saw dull silhouettes lurking in the forest and I could hear the rustling of leaves screaming as the trees hugged them preventing the wind from taking them away. I could feel the warmth of the reassuring campfires as they wrapped me in a blanket of warmth. Darkness filled the sky and the only source of light as I travelled on was the star soaked sky, which shimmered like a neon lasso. I could not take my eyes off the lightbulb filled sky. The wondrous moon stood out as if the sun were ten times bright. The deep lake is like a never-ending ocean as the end could never be seen. The water engulfed the secrets and animals, which swam underneath. A barrier of mist went around the whole park, leaving nothing but beauty. The trees were giraffes as they shook in the breeze.
Harry
While lounging in her battered row boat, which had a distinctive scar down the side, Francis heard a strange sound. Three crisp knocking noises. Knock, knock, knock! Puzzled, she leaned over the side of the boat, checking if something had hit the vessel. Had she drifted ashore? It came again. Knock, knock, knock. Francis leapt back, shaking. It repeated throughout the night…
Ashwin
Quetico is a one-million-acre nature reserve; it used to be pleasant and radiant, full of happiness. Now, the park is sinister, no, worse. If you tracked into the silent forest, you would see plants, dead and midnight black. The lake used to be neon blue and sparkling, for now it's inky black and glistening. The forest isn't filled with noise like the others; it's eerie silent but it will speak to you. It's so wide that even if you spoke at the top of your lungs, the echo would never return.
Rosie
As Francis reclined in her unsanitary boat, she day dreamed about the attractive stars. Suddenly, she heard knocking. TAP, TAP TAP! Unusually, she was over the lake's deepest spot (300 feet) so she hadn't run aground. What was that? She lay back down. TAP, TAP, TAP! TAP, TAP, TAP! She somersaulted up and clapped a grubby hand with unwashed fingernails to her mouth. She waited restlessly for the sound again…
Mathematics
If you are struggling, see if the Maths Calculation Methods videos can help you. Click here.
Remember to compete on Live Mathletics when you have done your weekly tasks.
We have also invested in Times Table Rock Stars which the children can use to practise their times tables and compete against each other.
Science
This term we are investigating properties of materials and how we can change them. We tested different materials for their: flexibility, permeability, hardness, translucency and if they were magnetic.
Next, we will investigate reversible and irreversible changes.
During the Spring Term, we visited Ingrebourne Country Park to investigate mini-beasts and wildlife. First we participated in a bug hunt where we found (named) lots of different creatures like: Jellyfish the spider, Steven the ladybird and Elvis the earwig! We then went bird watching and although this was very wet, we managed to spot different birds on the lake.
Enrichment opportunities
We were lucky enough to work with Mike Mullen and learn different stunts on a BMX. We used our Growth Mindset to go through the 'I can' door and with some determination we succeeded!
Orienteering!
In March, we competed in an orienteering competition at Stubbers. There were some very speedy teams and some great team work. Well done!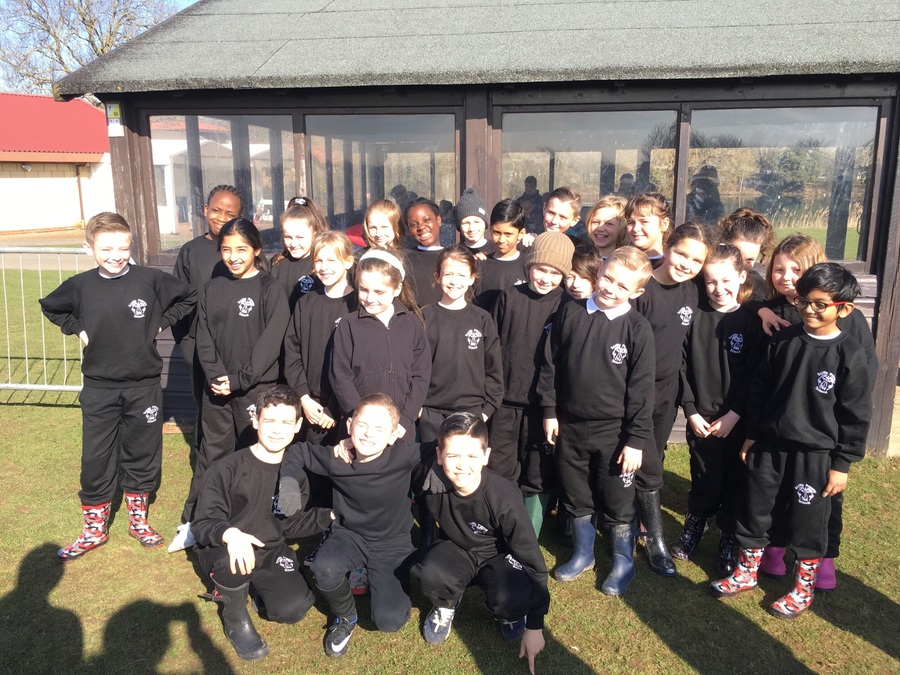 Music
For the last few weeks, we have been learning to play the glockenspiel with Miss Perry. We have worked out the notes we need to play and are playing beautifully together as a class.
During the summer term, we have been learning to play samba music and using Incredibox to create our own awesome tunes.
Topic
We will be exploring the Ancient Mayans this term.